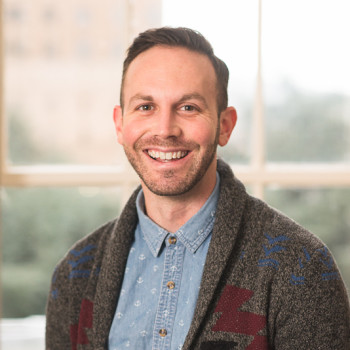 Having grown up in Washington and marrying a Portlander, Russell has been convinced for a long time that he and his family are best equipped to love and serve the people of the Pacific Northwest, he just never thought Portland was the specific location they'd end up. After some debate and a decade worth of life lived in Boise, Idaho, Russell and his wife Emily made the decision to relocate to Portland and pursue God's guiding for a new church start in the heart of the city.
Starting in January of 2014 after nearly a year of evaluation, prayer, and living as citizens, a church with no name was born around a coffee table in a cramped apartment in central Portland. While the vision has been growing and has been refined over time, Russell is still convinced that this is exactly the kind of church community the city of Portland needs in order for the gospel to flourish here…and he and Emily are committed for the long haul to see how that story develops.
Russell has a BA in Theology and Communication from Boise Bible College and is finalizing his MDiv in Theology and Philosophy from Lincoln Christian Seminary. He spent nearly nine years on staff at Eagle Christian Church in Eagle, Idaho and has been sent by that church (and a group of other likeminded churches and organizations) to plant Church of the City. He and Emily have two little ones, Jude and Charlotte…but everyone calls her Charlie.
**Note, all of Russell's email go through our Executive Admin, Barbara.**